School of Racing Road Craft Day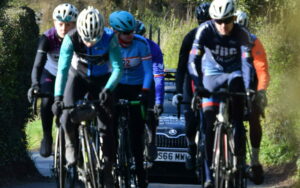 This day-long event in Cheshire on Sunday April 2nd is ideal for Youth A and first year Junior riders and their parents.

Featuring race skills, introduction to feed zones and simulations of mechanicals and punctures, this is a day packed full of activities and drills that will be useful for a ride in the forthcoming road racing season.

Places are limited and are priced at £35 per person including a hot lunch.

We will be joined by guests from the professional cycling community throughout the day who will provide insight into what it takes to be an elite cyclist.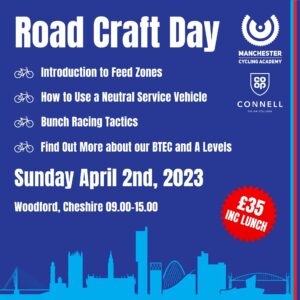 Parents will have the opportunity to ride with the Manchester Cycling Academy coaches to discover more about us and our philosophy.
Riders will need to come prepared and ready for a demanding but, fun and entertaining event which will provide them with many essential skills that they will need for the season ahead.

We will split the riders into groups of ability so if you or your rider is relatively new to competitive cycling, then don't be daunted. This event is not designed to simulate a competitive race and whilst it will be demanding, riders who are currently competing regionally will be able to participate.

Lunch will be provided for all riders and can also be pre-booked for parents. 


The outline of the day looks like this:
0830-0900 Sign On and Welcome
0900-0930 Bike Check and Roll Out
0930-1230 Training Ride on the Cheshire Lanes

Riders will need to bring a training bike with training wheels, restricted gears appropriate to their age group, wet weather and spare training kit and enough nutrition to sustain themselves throughout the day.

1000-1200 Parents Ride on the Cheshire Lanes

Parents will be accompanied by riders from a local cycling club and coaches from Manchester Cycling Academy on a flat ride around leafy Cheshire.

1230-1315 Lunch

Hot nutritious soup and sandwiches with vegetarian options available.

1315-1330 An Introduction to Manchester Cycling Academy

A brief introduction to us, who we are and the journey we want to travel on

1330-1500 Essential Road Racing Skills

Activities include simulations of mechanicals, how to use a neutral service vehicle and how to recover from a crash.

1500-1545 Supporting Your Athlete

A session for parents to discover how to provide support to an aspirational athlete led by parents of successful riders

1545-1630 Question and Answer Session

An opportunity to find out more about the Manchester Cycling Academy BTEC and to ask any questions that you may have.
Don't delay your booking as we are expecting this event to sell-out.