More People on Bikes, More Often
This is an exciting time for people who ride bikes and since our launch a couple of years ago, Manchester Cycling Academy has gone from strength to strength.
We initially launched the Academy with the single objective of running the BTEC course, but thanks to the incredible kindness and input from riders, parents and supporters, we have had many more opportunities offered to us.
So to build on our initial success, we have formed a Community Interest Company (CIC) to work alongside Manchester Cycling Academy.
Working hand in hand with our BTEC programme and our academic partners to provide a pathway, Manchester Cycling Academy CIC will deliver grass roots activities with local partners to enhance the cycling community in the Manchester Region to help us to achieve our vision of having more people on bikes, more often.
You can read more about Manchester Cycling Academy CIC by clicking HERE.
---
Join One of our Events this Autumn
We're running a series of events including bike maintenance sessions and bike rides and they're all FREE!
What's On?
Over the next few weeks we have some basic and intermediate bike maintenance sessions taking place, together with some guided bike rides through South Manchester.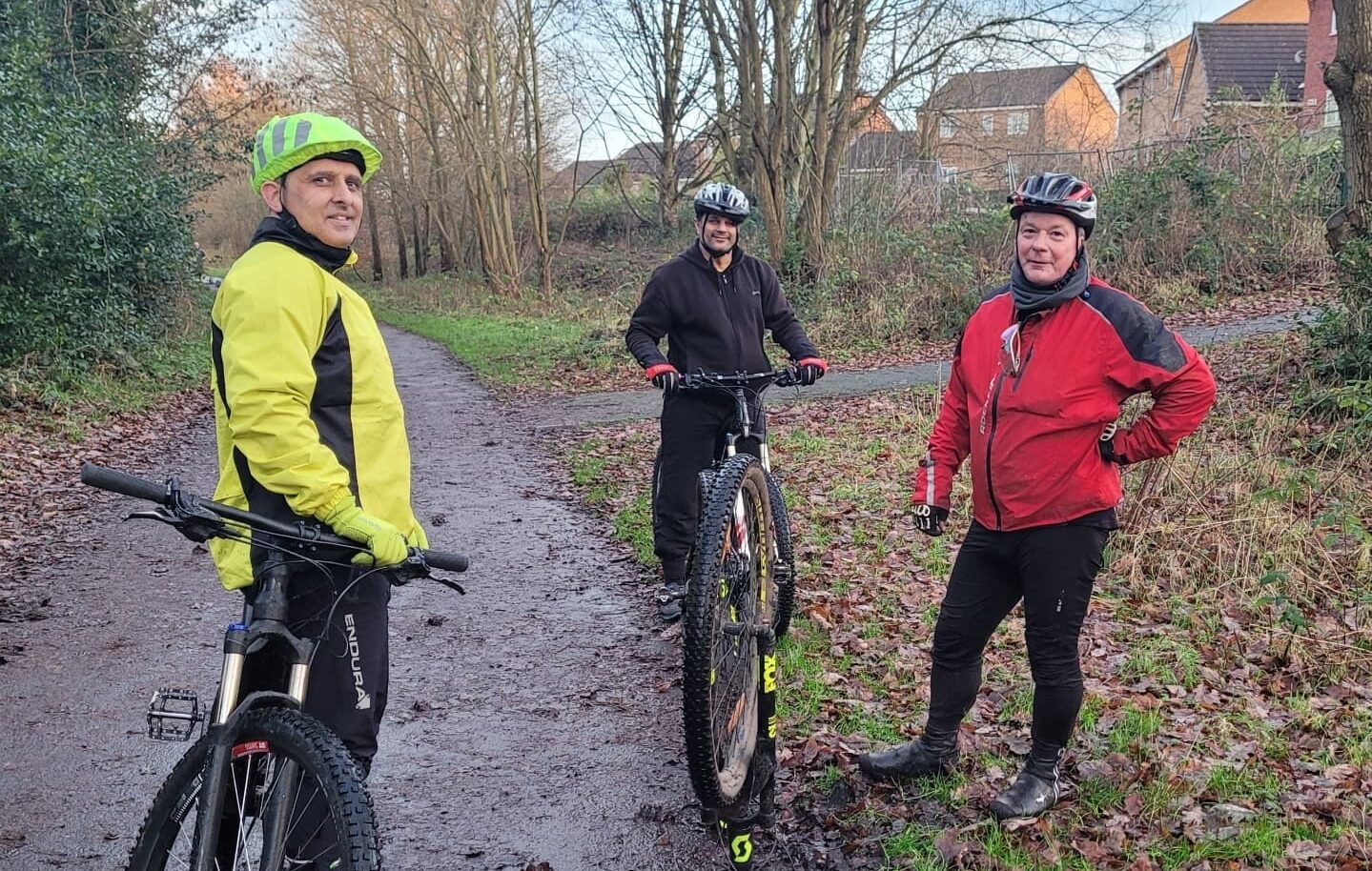 To find out what events are taking place, click through to the Manchester Cycling Academy CIC website where you can find out more information and to book your place.
Rides will start from the Boiler House in Moss Side and go to Alexandra Park, Chorlton Water Park and beyond for those who are feeling more adventurous.
Subjects covered in the bike maintenance sessions include, how to remove your bike wheels, how to change a tyre, how to mend a puncture, how to adjust your saddle to the correct height and how to adjust your brakes and gears.
Click through to the events page to secure your place.
---
Schools Programme
Working in partnership with Manchester Schools PE Association, we have secured funds to visit schools in South Manchester to carry out activities including bike servicing, help for students to maintain their bikes and improve their cycling skills.
The programme follows our Repair, Ride, Discover, Compete Model. We begin with a visit to the school where students and staff can bring their bikes into school to get them repaired for free.
Following this we work with small groups to encourage them to ride safely and build up their skills off road, they can be taken on group rides out of school.
Once the students can ride confidently and safely we will then introduce competition against other local schools.
Would you like your school to take part in this programme? Contact us to see how we may be able to help you. We have a small amount of funding left so we may be able to visit you for free.
---
Hulme Bike Library
We have received funding from Transport for Greater Manchester to host a bike library in Hulme, Manchester. The scheme will be run by Manchester Cycling Academy, in partnership with MMU and Friends of Hulme Parks.
The concept is simple, if anyone wants to borrow a bike they can, for free!
We will offer a variety of bikes. Some for free, some which will require payment. We will also offer bike servicing and repairs the local community.
If you have a bike you wish to donate or would like to get involved, then please do get in contact with us.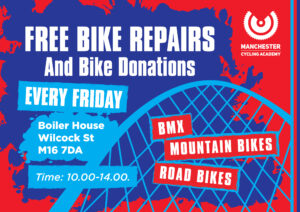 ---
The Hulme Holiday Sports Club for children aged 8-14 years old will take place throughout August 2022 and booking will open at the beginning of July.
We are based at the Castlefield Campus School on Jackson Crescent, Hulme M15 5AL, where we have full use of the facilities including the sports hall, 3G football pitch and toilets.
Lunch and snacks will be provided for everyone who attends and we will also be providing the opportunity for children who attend to get their bike mended and serviced for free.
We will have a theme for each of the days and these will be communicated to those who sign up and via social media.
Book your place by clicking HERE
If you would like to get involved as sports coach, volunteer or if you are looking for a partner to provide holiday programmes in your area, then please do get in touch.
---
Evening Classes
Throughout the month of April 2022 we will be running a series of bike maintenance evening classes at The Boiler House, Manchester.
The sessions will cover the basics of how to look after your bike including safety checks, how to change a tyre, the importance of cleaning your bike and how to make basic adjustments to it.